Your site includes a scrolling news ticker that can be set to display in four different locations at the top of your site. This news ticker is designed for short, one-sentence updates, which can be linked to full stories on your site. You can choose to manually enter the headlines that will show on the news ticker or choose to have it automatically scroll through any number of your recent headlines.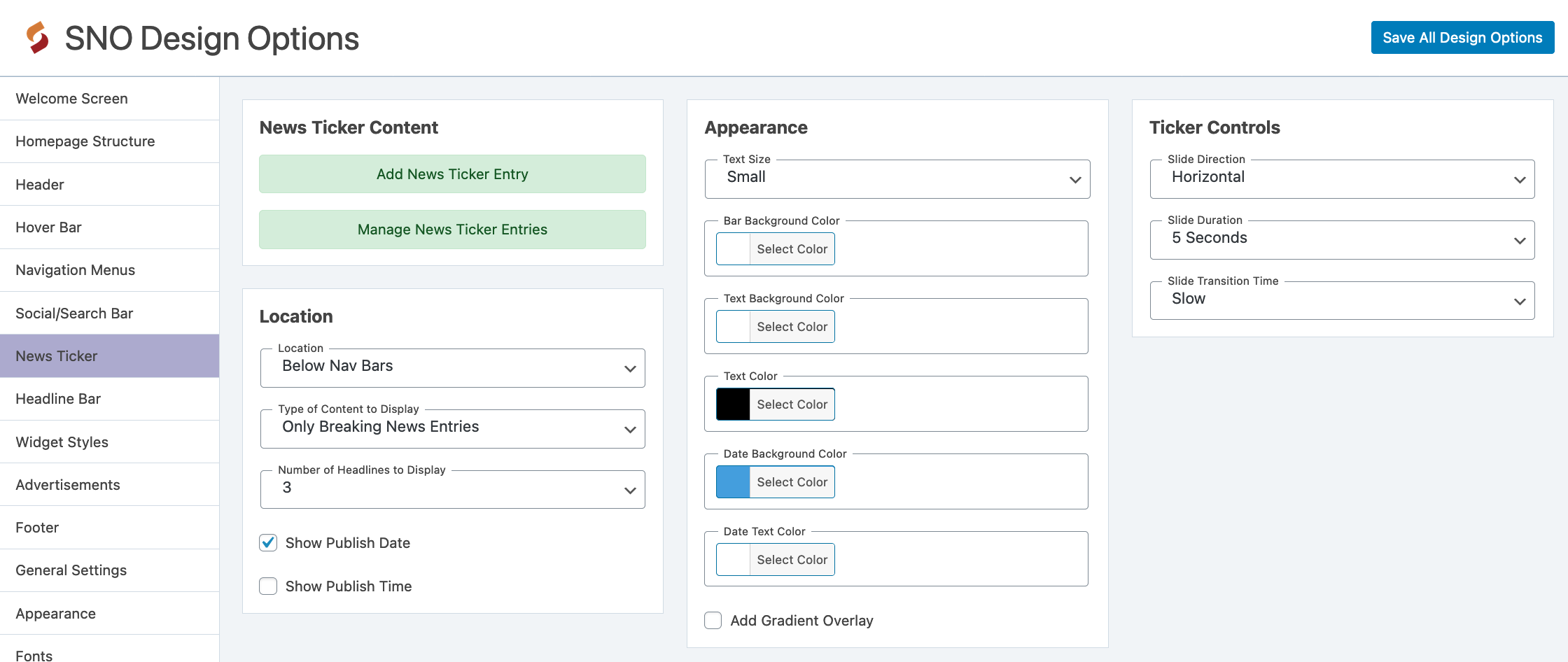 To set it up go to the News Ticker section from the SNO Design Options page under Appearance on the WordPress dashboard. There you can change the settings and design of the News Ticker, as well as click the quick links to add actual entries or manage your entries.
You can choose whether to display the ticker, how many headlines to display, whether to display the date, and which colors to use. You can also choose whether to display All Recent Headlines or Only Breaking News Entries. If you choose to to display Only Breaking News Entries you will need to manually enter breaking news headlines.
Activating the News Ticker
Click on the SNO Design Options link under Appearance on the left navigation bar in the WordPress dashboard.
Scroll down to the News Ticker options.
Configure the options as needed.
Click Save All Settings.
Adding a Breaking News Headline (if needed)
Click on New under Breaking News section on the left navigation bar in the WordPress dashboard or from the News Ticker Content section in the SNO Design Options.
Enter your news ticker headline (this is what your readers will see scroll) and then add a full URL to link to if you want.
If you want your headline to link to a story or something else, add that link in the Link URL box. Make sure your link starts with "http://".
Click Publish.
IMPORTANT: You only need to complete this process if you chose to display Only Breaking News Entries in the News Ticker options on the SNO Design Options page.