SNO Trending Stories Widget and Analytics Dashboard
We automatically add a plugin to your site called Google Analytics by MonsterInsights. This plugin makes it simple to connect Google Analytics features to your SNO site (e.g. error page, search result and automatic outgoing links and download tracking). It also creates a section in your dashboard called Insights that gives you a basic overview of your stats and adds other functionality as well.
To start using this plugin, you'll first have to authenticate yourself with a Google account that's tied to your Google Analytics page for your site. To do so, click into the dashboard section titled "Insights" and then go to Settings –> General. From the General tab, click the "Authenticate" button (do not manually enter your UA code). A pop-up box will display asking you to login with a Google or Google-tied account (this account needs to be the one you use to login to Google Analytics at http://google.com/analytics). Enter your credentials there — you can use any account you use to login to your site's Google Analytics account at http://google.com/analytics/.
If you have never logged into your Google Analytics account before and don't know which credentials to use, please submit a support ticket by emailing us at support@snosites.com.
Once you've entered your credentials, copy and paste the code it provides in the box so listed. The last step is to select your account from the dropdown menu after you've clicked the save button (the account will look like a bunch of numbers i.e. UA-12345678). You'll then be able to view your reports right from your dashboard. 
The SNO Trending Stories Widget allows you to display top stories/posts on your homepage or non-homepage widget areas based on Google Analytics data. It's a fun, dynamic way to retain viewership amidst your readers by giving them access to the most frequented stories on your site from a widget on your homepage.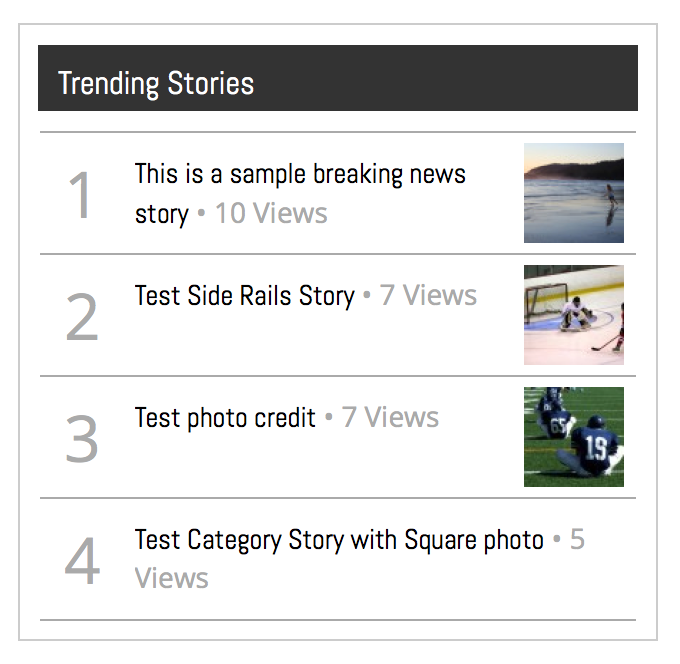 To add this widget to your site, follow the same steps you would when adding any widget to your site — head to your dashboard and click into Appearance –> Widgets. Locate the SNO Trending Stories widget from the list on the left and drag it to the appropriate widget area on the right. You can customize the look and feel of this widget just like any other.