Starting in 2022, clients using SNO FLOW will be required to authenticate FLOW to a personal Google Drive account, rather than utilizing a shared Google Drive account that is managed by SNO.
The reasoning behind this change is twofold: We want to give you more control over who has access to your files at any given time, and also give you the ability to directly manage and organize your FLOW files from within the Google Drive interface (if so desired).
How to Authenticate FLOW to a New Google Docs Account
Start by creating a new

FLOW instance

to work from.

Go to Settings, then Google Drive Integration.
Make sure the option to "Enable FLOW's Google Docs Integration" is turned on.
Click on the "Authenticate Google Docs" button and select the Google Account that you would like to connect to SNO FLOW.
Review the notifications on what SNO FLOW will have access to upon authentication, and click "Allow" to proceed.
The page will automatically reload, and once the authentication is complete you will see a message that reads "Your FLOW account is authenticated to the … Google Docs account." This is your confirmation that the authentication was successful.
What's Happening Behind the Scenes During the Authentication Process
Although you can't actually see it taking place, when you authenticate a new Google Docs account with FLOW, a new folder titled "SNO FLOW Integration" is automatically created within the Google Docs account. It is also automatically shared with all pre-existing users in FLOW.
FAQs About the Authentication Process
Question: "If I connect FLOW to my personal Google Docs account, should I be concerned about my privacy? Will students have access to my other Google Docs outside of the folder that is shared with them?"
Answer: For FLOW users with privacy concerns like these, our recommendation is to create a generic Gmail account for your publication as a whole (Ex: summit.student.media@gmail.com). This is free and can be done here.
After that new Gmail account has been created, authenticate that account with FLOW (using the aforementioned steps), rather than using a personal account.
Question: "I authenticated FLOW to a new Google Docs account, and now, when I click on "Create Google Doc" within a story, the screen never finishes loading and the document is never actually created. What should I do?"
Answer: First, go to Settings -> Google Drive Integration -> Click on the "View FLOW Google Drive Folder" button. If clicking that button spits out an error message, try turning off the FLOW Google Docs Integration entirely, turning it back on, and then re-authenticating it with the desired Google Docs account.
Question: "I authenticated FLOW to a new Google Docs account, but my students aren't able to access the documents. They receive an 'access denied' error message. What should I do?"
Answer: If students on your staff encounter this issue, open up their FLOW user account and click on the "Share Google Drive" button. This only needs to be done once per student.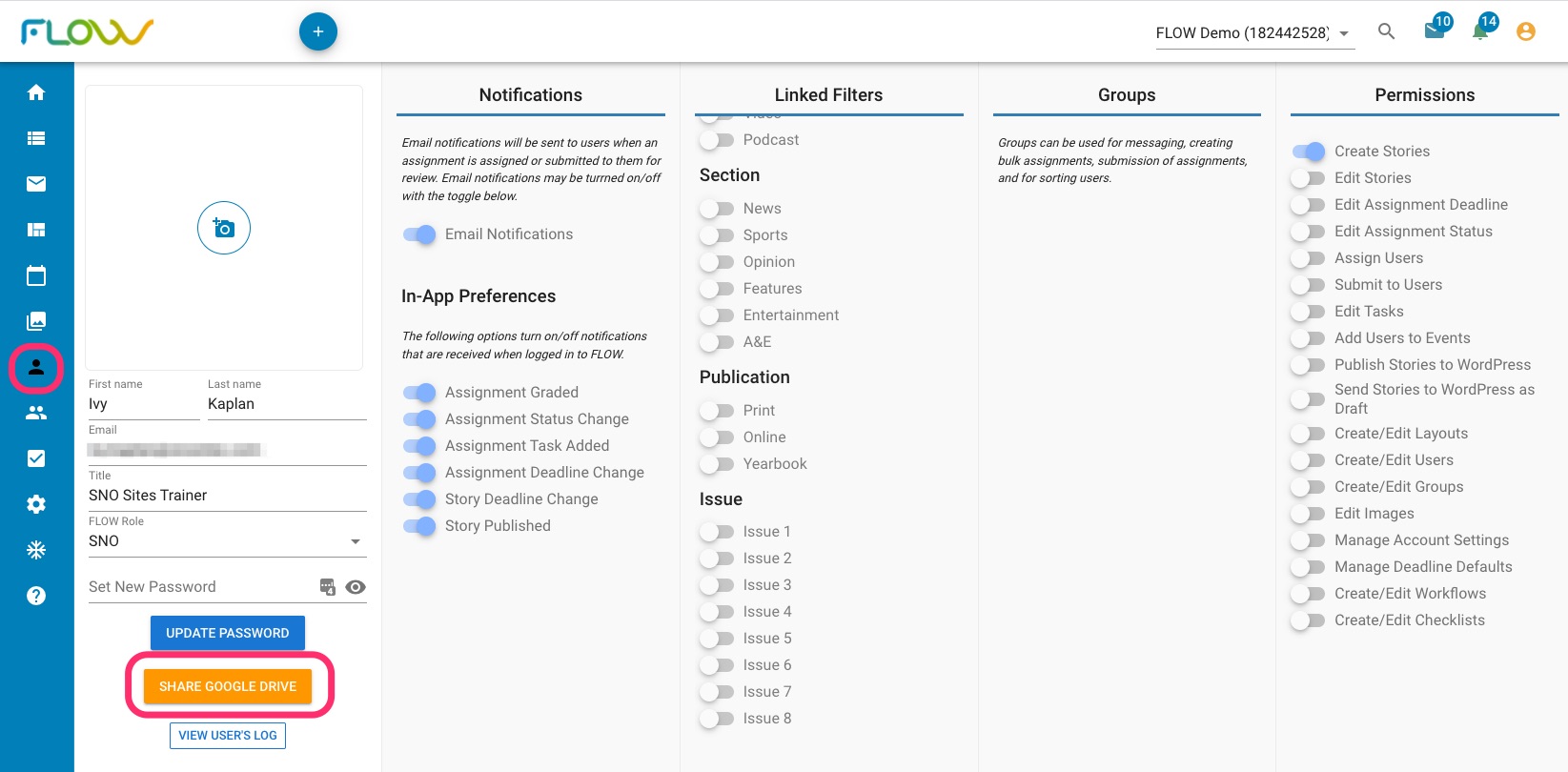 Question: "My school doesn't use Google Drive. Can we still link to our content in FLOW?"
Answer: If you don't use Google Drive that's no problem. We've built a custom link section in the story page interface in case you'd like to add your Microsoft Office 365 links, Dropbox links, Adobe, or anything else. Just be sure to add "http://" to your URL before clicking save.