Designing can be tricky and you might be worried about making mistakes and how to undo them. You also might be wondering about how to restore design changes you made or want to create a custom design backup.
Good news! You can do all those things!
Design Backups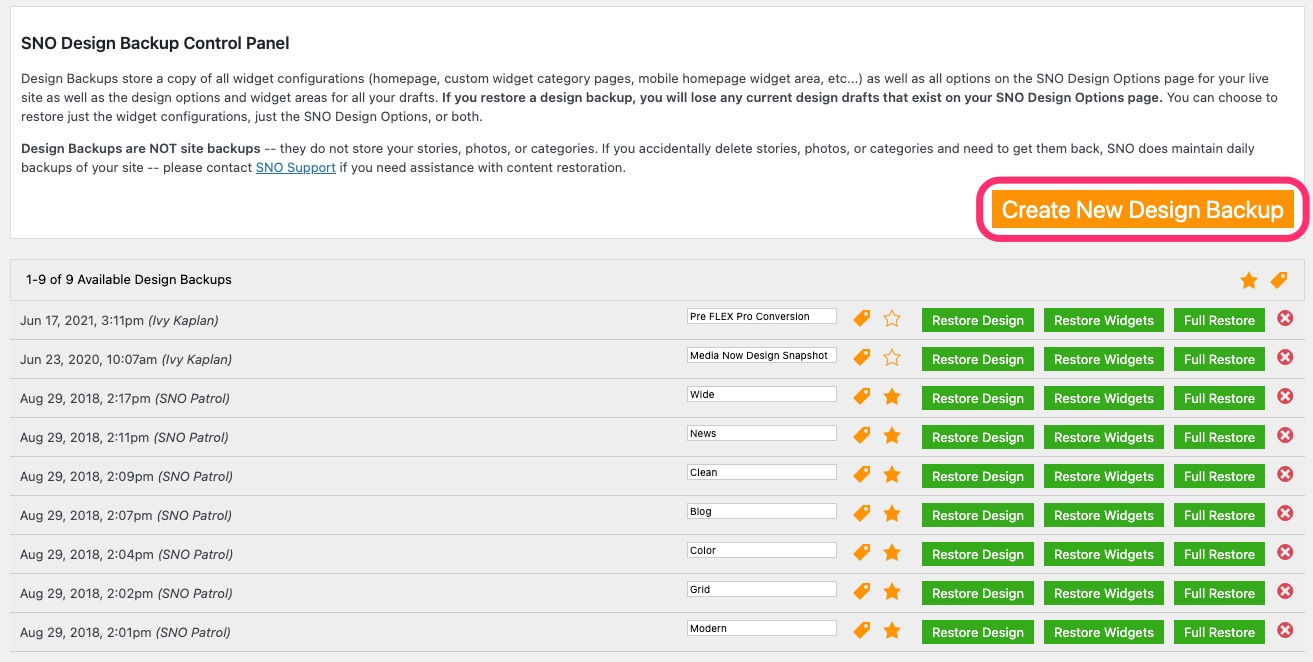 Found under the Appearance menu in your site's dashboard, Design Backups store a copy of all widget configurations (homepage, custom widget category pages, mobile homepage widget area, etc...), as well as all options on the SNO Design Options page. You can choose to restore just the widget configurations, just the SNO Design Options, or both.
Design Backups are NOT site backups -- they do not store your stories, photos, or categories. If you accidentally delete stories, photos, or categories and need to get them back, SNO does maintain daily backups of your site -- please contact SNO Support if you need assistance with content restoration.
Once you click the big orange "Create New Design Backup" button, the system will create a backup of everything from your Widget Control Panel at that moment, along with everything currently in place in your SNO Design Options.
You can then give each Backup a name in order to remember it, as well as star it if it's a really memorable design. Finally, you get to choose whether or not to just restore the widgets from that backup, just the SNO Design Options, or both!


Design Options Revision History
You can restore previous design options using the Design Options Revision History tool. This option is found at the bottom of your SNO Design Options page and will automatically create a restoration point each time you click the blue Save All Settings button.
Every time the design options on this page are saved, a new revision entry is created. To restore a previous design, click the Restore link next to the timestamp. This option restores all options on this page in addition to menu locations. It does NOT restore widget settings or configurations.
This function is handy if you've ever hoped for an "undo" button on your site, as you can simply click the most recent time stamp to revert back to your previous settings. You can also name these entries by clicking the Tag button, as well as star them for added emphasis.