Your site has several options to help you display your top stories. The area at the top of the homepage can either display a SNO Carousel widget, SNO Grid Widget, or SNO Category Widget. We'll break down each option below. IMPORTANT: Each story you want featured in any of the methods below should have a Featured Image.
Method 1: Home Top Full Width Widget Area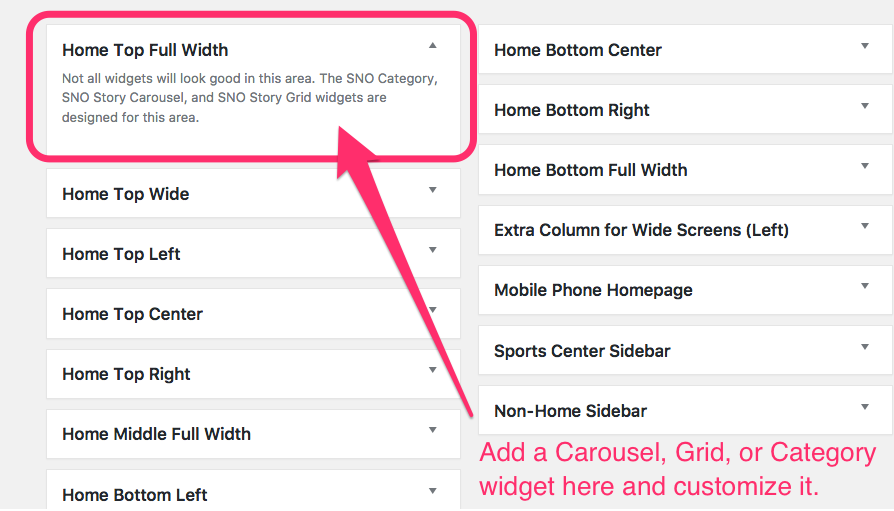 The most dynamic way to display your top stories is to use the widget configuration page, just like you would for any other widget on your homepage. Choose from either the SNO Story Carousel widget, the SNO Story Grid widget, or a SNO Category widget and add your widget to the Home Top Full Width widget area. Once you've added your widget, assign a category you want it to display and customize the myriad widget options. Save and double check your work on your live site. 
Method 2: Above Header Full Width Widget Area
This widget area can be used to display top stories before any other content is displayed on your site. It's great for new feature stories and works best with the Full Screen Story widget, which uses Parallax technology to scroll through images. Other widgets will also work in this area.
Method 3: Immersive Splash Page
The Immersive Splash Page allows you to display a single story and its photo as an Immersive Splash Page that will be seen at your home URL. The Immersive Splash Page works like the Top Story Display Area while allowing you to highlight your featured story in an eye-catching way, as viewers will begin their experience by seeing this display.
The story you choose for this page can be selected by itself by assigning it to its own category and choosing that category to be displayed or as the most recent story from a given category displayed by published date.
The splash page will be displayed anytime someone goes to your homepage, but a viewer can view the full site by clicking the option at the top for "Full Site". The menu on this page will correspond to the Mobile Menu section of your site and reflect the menu items assigned to that navigation menu in your Menu settings.
* The Immersive Splash Page image should be sized at 1500px wide by 1000px tall (minimum size requirements are 900px wide by 600px tall).
Make sure the story(s) you're going to place here first have a featured image assigned with the above dimensions.

Click on SNO Design Options under the Appearance tab on the left side of your WordPress dashboard.

Expand the Homepage Features section and then

open up the Immersive Splash Page section.

Activate Immersive Splash Page by clicking the corresponding checkbox.
Choose the Category you want displayed here and adjust any settings on the right (the defaults should work great!).

Click Save All Settings.