Sports Center is an add-on product you can purchase as part of the Site Booster Bundle ($200/year). It allows you to display your sports in a central hub for your readers to access easily from your navigation menu.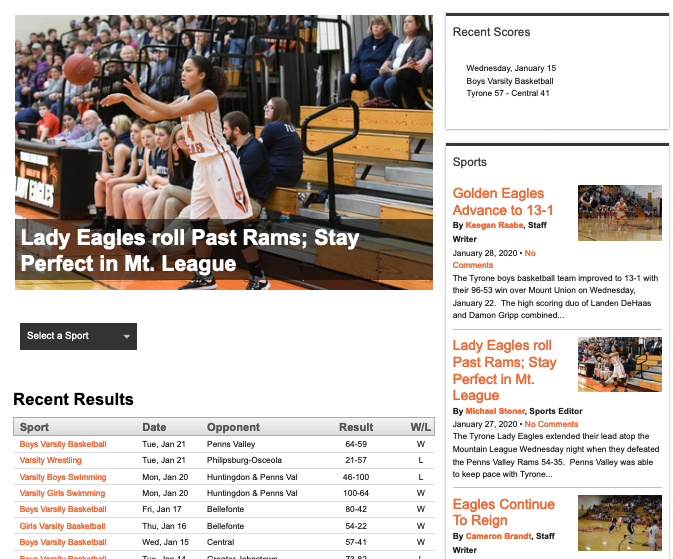 Once we install Sports Center for you, you're given a new area in your dashboard where you can manage everything sports related, such as the names of your sports (Boys Basketball, Girls Tennis, etc.), seasons (2020-2021, Fall 2020, etc.), scores, rosters, and standings. Read on to learn how to get started!
1. Adding Sports
The first step is to add all your sports teams to your site's sports center directory. This will look a lot like adding a new category, as it uses the same framework. In your site's dashboard, hover on Game Scheduler and click Sports. From there, simply add your sports team names.

2. Adding Seasons
Next you'll need to add a season, which is really just your current school year or semester (e.g. 2020-2021 or Fall 2020, etc.). You can add upcoming or previous seasons as well, but we recommend sticking to the current school year and only adding them moving forward at the start of a new year. Again, this process will look similar to adding a new category. Hover on Game Scheduler again and click Seasons. Enter your season name and click Add or hit enter.

3. Adding Games
The bulk of your Sports Center page is compromised of actual games, including upcoming games and the scores of games that have already been played. Your next step should be adding games to your various sports and seasons.

Again, hover on Game Scheduler and click Add Game to get to the above interface. You'll need to add each game individually, so just know that this can take some time. Link to Story is optional, but a cool feature to link stories with scores. Start adding your games and maybe even assign a staff member or group of students to this entire task.
4. Linking Stories to Sports Center
When Sports Center is added to your site you're given a new custom field within each story's edit screen. You'll see a field at the very bottom while editing a story called "Sports Add-on: Attach to Sport Page". If your story is related to one of your sports, you'll want to choose that sport from the dropdown. This will then allow it display under that specific sport and in the carousel on the Sports Center landing page.
5. Adding Athlete Rosters
Sports Center gives you the ability to add your various teams' athletes as well. Just look for the Athlete Roster tab. Adding athletes can take a bit of time to enter, so it might be a good idea to designate one or more students to manage it. When you add a new athlete and assign them to one of your sports and seasons, you begin to build a roster. A roster will show up automatically on its respective sports page.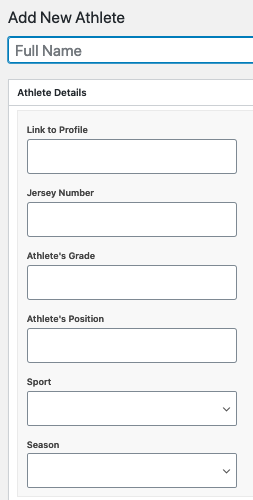 6. Adding Standings
Standings can also take awhile, especially for a school with a very big district, however once in place they are easy to update. Fill out the form fields under the Standings -> Add New tab to begin. These will also show up automatically for the sport being viewed.

7. Designing Sports Center
Designing your Sports Center page is simple and can be found in two locations:
1. The SNO Design Options page under the Add-ons section.
2. The Widget Control Panel under your Sports Center Sidebar widget Area.

In the SNO Design Options page, scroll down to the bottom to find the Add-ons tab to adjust your Sports Center design options. Here you can choose whether or not to have a Story Carousel featured at the top, how many stories to display, which category for it to display, whether or not to display its headline, as well as how many results and upcoming games will show up. You can also adjust the labels for your Standings lists and set the breakdown/grouping for your sports rosters, as well as when your Sports Center landing page will start displaying scores and schedules for the next school year when set to the School Year breakdown.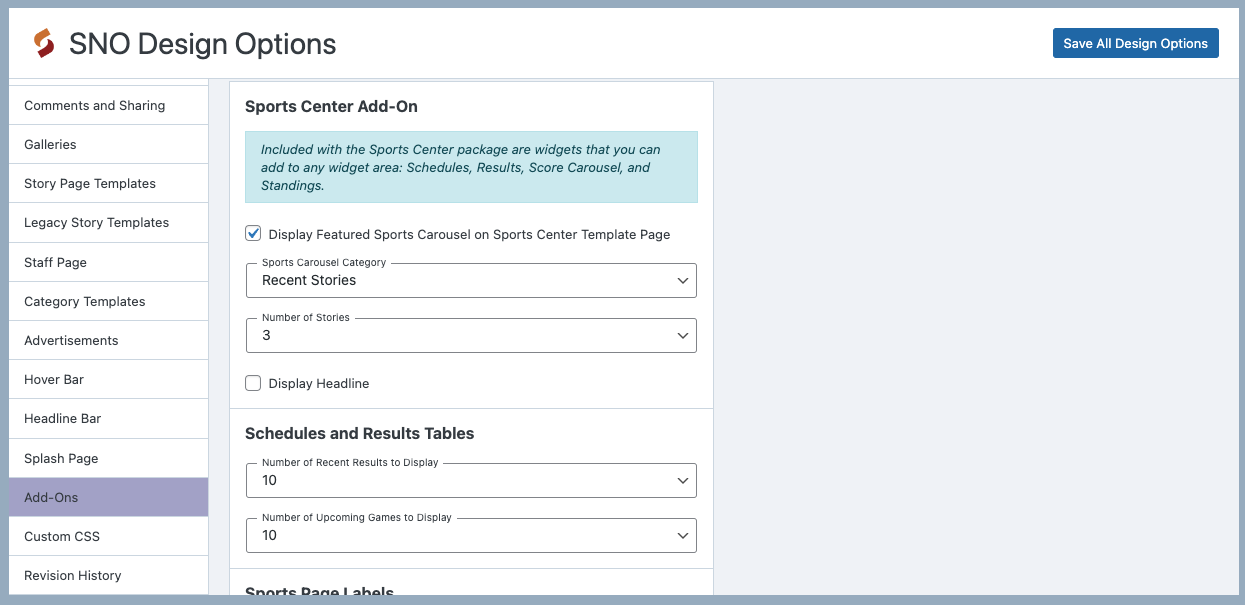 In the Widget Control Panel, expand the Sports Center Sidebar widget area on the right and start dragging any number of widgets you'd like to display in that sidebar on the Sports Center landing page. These special Sports widgets can also be displayed anywhere else on your site and include: SNO Sports Score Carousel, SNO Sports Results, SNO Sports Standings, and SNO Sports Schedule.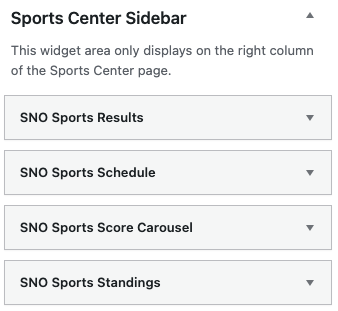 As long as you keep scores and games up-to-date, the Sports Center can be the hub for all of your school's sports activity.
Want to get Sports Center? Just order here.