The Social Media Icons and Search options can appear in a bar (with or without the date) in 6 locations at the top of your site (Top Edge, Above Header, In Header, Below Header, Below Nav Bars, or Off). By clicking on the Social/Search Bar section of the SNO Design Options page, you can choose its location, colors, and whether it displays the date. Adding links to the Social Media Links column on the right will create a corresponding icon on your homepage; leaving it blank will remove the icon.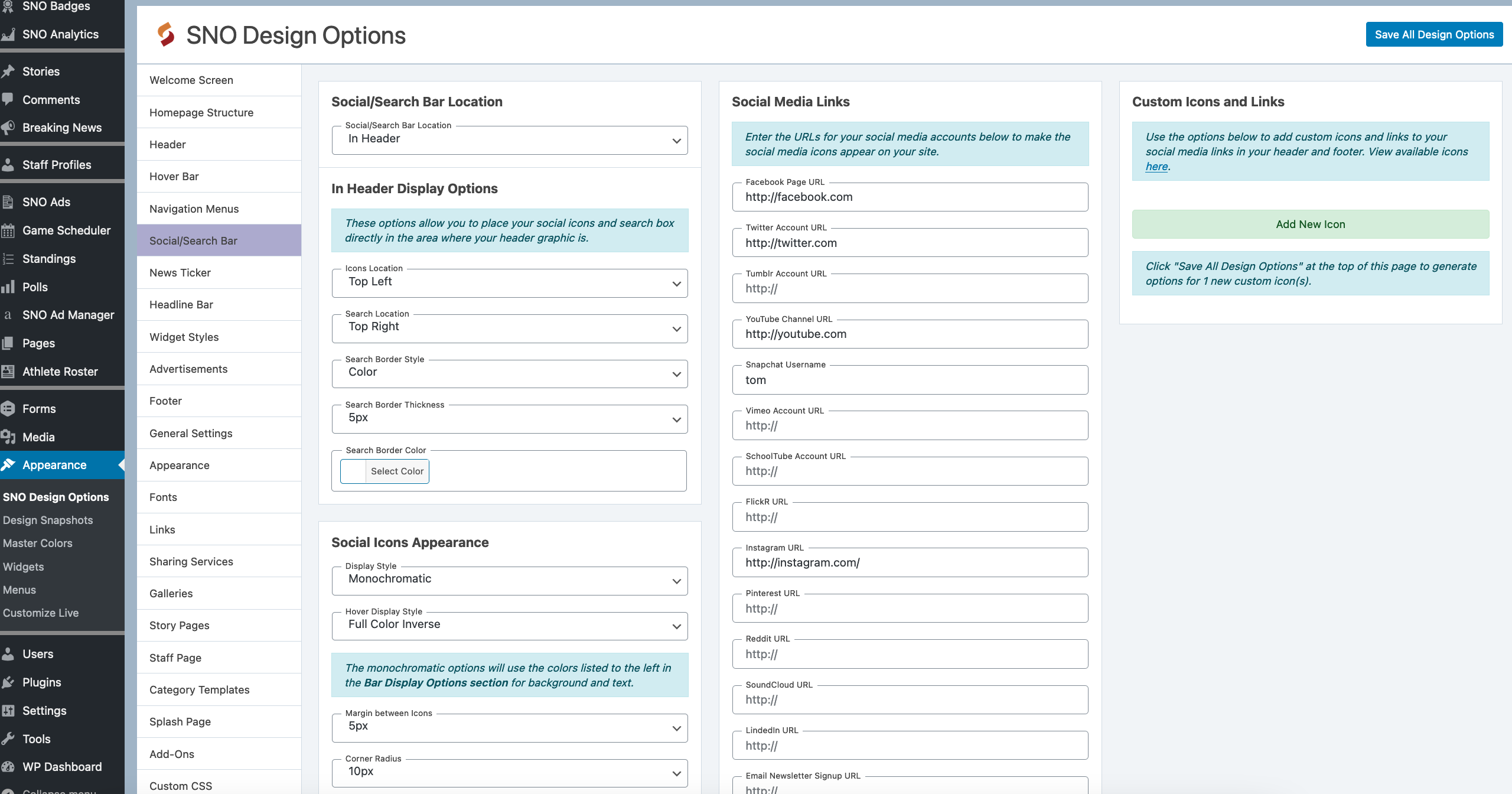 Social Media Icons
Your site has multiple icons built in to the navigation bars on your site: Facebook, Twitter, Google Plus, Tumblr, YouTube, Vimeo, Flickr, Instagram, Pinterest, email RSS, and likely more to come.
Adding, Removing, or Editing Social Media Icons
Click on SNO Design Options under the Appearance tab on the left navigation bar in the WordPress dashboard.
Open the Social/Search Bar section.
Add the URL of your social media page in the appropriate box––this will automatically generate an icon and link to your profile.
To remove an icon, delete the URL from the box. (If you wish to have no Social Medial Icons at the top of your site, but still want a search bar. Choose the Location and leave all of the URL boxes blank.)
Click Save All Settings.
Adding a Custom Icon

This process is covered in the video at the top of this page. Here are further instructions:
In the third column, click Add New Icon and then click Save at the top right.
Once the page reloads, enter the title (this only shows up for Alt Text purposes and won't appar on your website), enter the URL you want your icon to lead to, and enter the Font-Awesome Class Name (see next step for more details).
The Font Awesome Class Name is found by searching for your icons on this page (also linked in the SNO Design Options -> Social/Search Section at the top right). Search for your icon on the Font Awesome page and select it. On the next page copy the class name, which is everything inside of the quotes. Paste or type this class back into your site class name section. Click Save.
Learn how to have Social Media Icons in your Footer by clicking here.
Search
The search will allow uses to search your site. If you do not want search at the top of your site but would still like your readers to have search capability, you can add a search widget to any of the widget areas on your site or add a search field to your footer.