Your site is setup with Google Analytics, a robust reporting tool from Google. 
If you would like to be able to log in to your Google Analytics account to get a comprehensive view of your site stats, submit a support request and provide us with a gmail address, and we'll add you to the account.
Generally speaking, you should be fine utilizing the weekly report we send you, as that will contain the major statistical categories most sites are interested in.
When your site is created we automatically set you up with a Google Analytics account. Your site's stats are tracked by a unique tracking identification number called a UA code. We'll also setup a weekly email report containing an overview of your stats to land in your primary contact's email inbox each Monday.
When you initially setup your site with us we ask for an email account (that's tied to a google account) in order to give you access to your Google Analytics admin page. This email account will be the primary manager of your site's stats on http://google.com/analytics. To login, you'll simply go to that URL and login with your email address and its corresponding password.
Once you're logged into Google Analytics you can start to navigate through the myriad options to explore and manage your analytics. Google Analytics can be quite overwhelming at first glance, but eventually you should be able to locate the areas relevant to you, get there easily, and interpret the data quickly.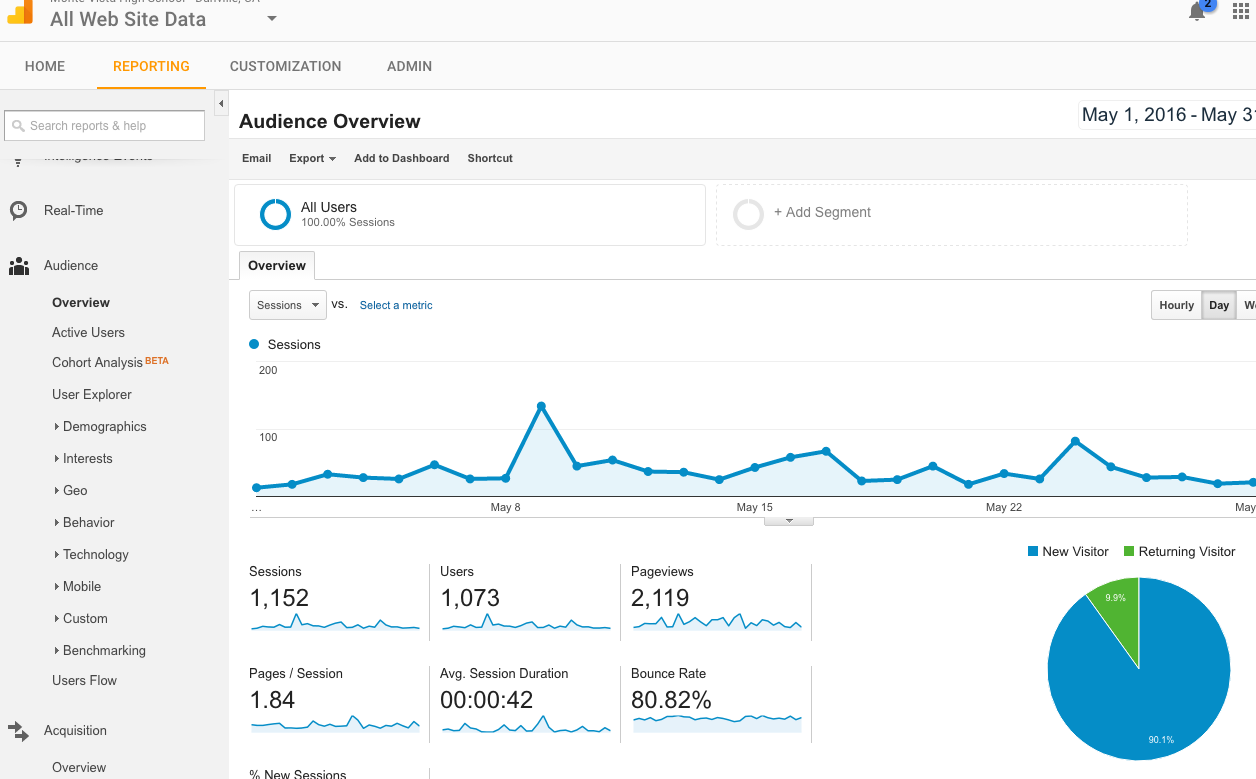 BASICS
Now that you're in, we've outlined three main areas to pay attention to below, which will fast track you towards the analytics wonk you are. These sections are called Audience, Acquisition, and Behavior, which can all be found under Reporting.
Audience is your, well, Audience! Click on Audience Overview to see the most helpful stats, such as number of users and pageviews per a given time period. Are most of your beloved readers mobile visitors? Are your visitors brand new or returning readers (aim for a 50/50 split)? The Audience section will tell you.
The Acquisition section displays how visitors are reaching your site. Common ways audiences access your content are through direct traffic (or knowing your URL by heart), organic search (thanks Google), Referral from another website, and Social Media. This will let you know what you should be focusing on in terms of promotion; aim for Social Media, Direct Traffic, and Organic Search to be the top three.
Finally, the Behavior section displays, you guessed it, the behavior of your visitors! This would include which stories get the most hits, which pages are being viewed most often (or least often!), and what kind of content seems to drive readers to your site. What's so great about the Behavior section is that you can determine what your readers care about most, as well as break that information down per day, week, or month.
How to Increase Readership?
Of course the first thing a site needs to create viewership is content worth viewing, but once you have great stories, photos and video, these  tips can help boost the number of people who see frequent your site.
Publish often. Put a new story up regularly — every day even — so readers keep coming back.
Go online first. Why wait for the next print edition? Update your audience immediately. They'll turn to you first next time news breaks.
Cover comprehensively, and publish when ready. Determine the publication date that makes the most sense. For example, cover the school play auditions, rehearsals, promotional period, opening night and cast party. Plan coverage so interested people will return again and again.
Don't just dump your content. Think about having a primary and possibly a few secondary stories each day. That comes to 40-50 stories a month, the same as most monthly print editions with two or three stories per staff member.
Stagger deadlines. WordPress allows you to schedule the publication dates. Copy the short links and schedule your social media posts in advance, too. Make this the job of a staff member such as website manager or social media editor.
Campaign for followers.  Get the word out around school (and the community) that you have a various social media accounts.  Challenge your staff to gather a certain number of "likes" and reward them when they do.
Publish content that engages your audience.  Sometimes the story about the funny story about the most eligible freshman may not seem very journalistic, but you'd be surprised how many folks will read the humorous story because it is funny and then click over to the more serious journalism on your site.
Promote the new stories through social media (Facebook, Twitter, etc.), to build a broad audience.
When promoting stories on social media, consider these hints to create more posting power:

Describe the story being published, not just the headline.
Use hashtags, so the story will show up in search.
Schedule the posts or tweets to appear when the audience is checking — probably afternoon and evening times.
Get your staff to retweet and share — make it a contest.
Occasionally repost a "best of" or "ICYMI" (in case you missed it) to remind visitors of content they might not have seen.