During the summer of 2020 we launched SNOAds.com, a new platform designed to make it easy for advertisers to buy ads on student news websites. With the COVID-19 pandemic disrupting virtually every aspect of our normal lives and shrinking budgets, raising revenue through advertising will be more important and challenging than ever. Here are some tips on making the most of your SNOAds.com listing.
Here's a little about how it works:
SNO Ads is completely optional and free. By being a SNO customer, you are not just automatically added in. Some staffs would rather sell ads on their own, others choose to opt into this program for a little help, and some schools don't allow advertising at all. That's all fine. You're in control.
It's a 70-30 revenue share in which 70 percent of the profit from ads on your site goes to you. Payments from advertisers are processed as credits on your SNO account.
SNOAds.com becomes a destination for advertisers to purchase and upload ads to be displayed on your site or multiple sites. Advertisers can search for schools by name, location, estimated impressions, school level, ad prices, and ad sizes.
There are three hard-coded ad spaces for sale, ranging by default in price (between $30 and $60), but you can set your own prices as you wish. (There's a $10 minimum.)
Each ad space has three rotational slots. If each slot within one ad space is purchased, the ads will change randomly each time the page is visited. Advertisers will have the option to buy out all three possible rotations — or even all available ad spaces.
Every ad image and URL destination submitted by advertisers is reviewed by a member of the SNO team before it's added to your site, so you can be assured that nothing inappropriate or controversial will appear.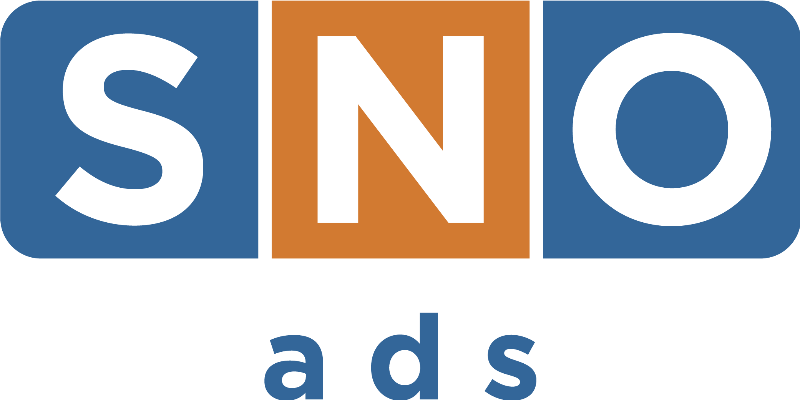 Activate your SNOAds.com listing
Over 550 student news websites have opted-in to the SNOAds.com platform. If you're not sure if your website has a listing, visit SNOAds.com and search for your school. If you don't find your website, you can easily activate it by logging into your SNO website and clicking on the SNO Ads tab in your dashboard. Verify and edit the information there and hit submit. Now you're ready to activate your ad positions. Need help with this step? Drop our support team a line.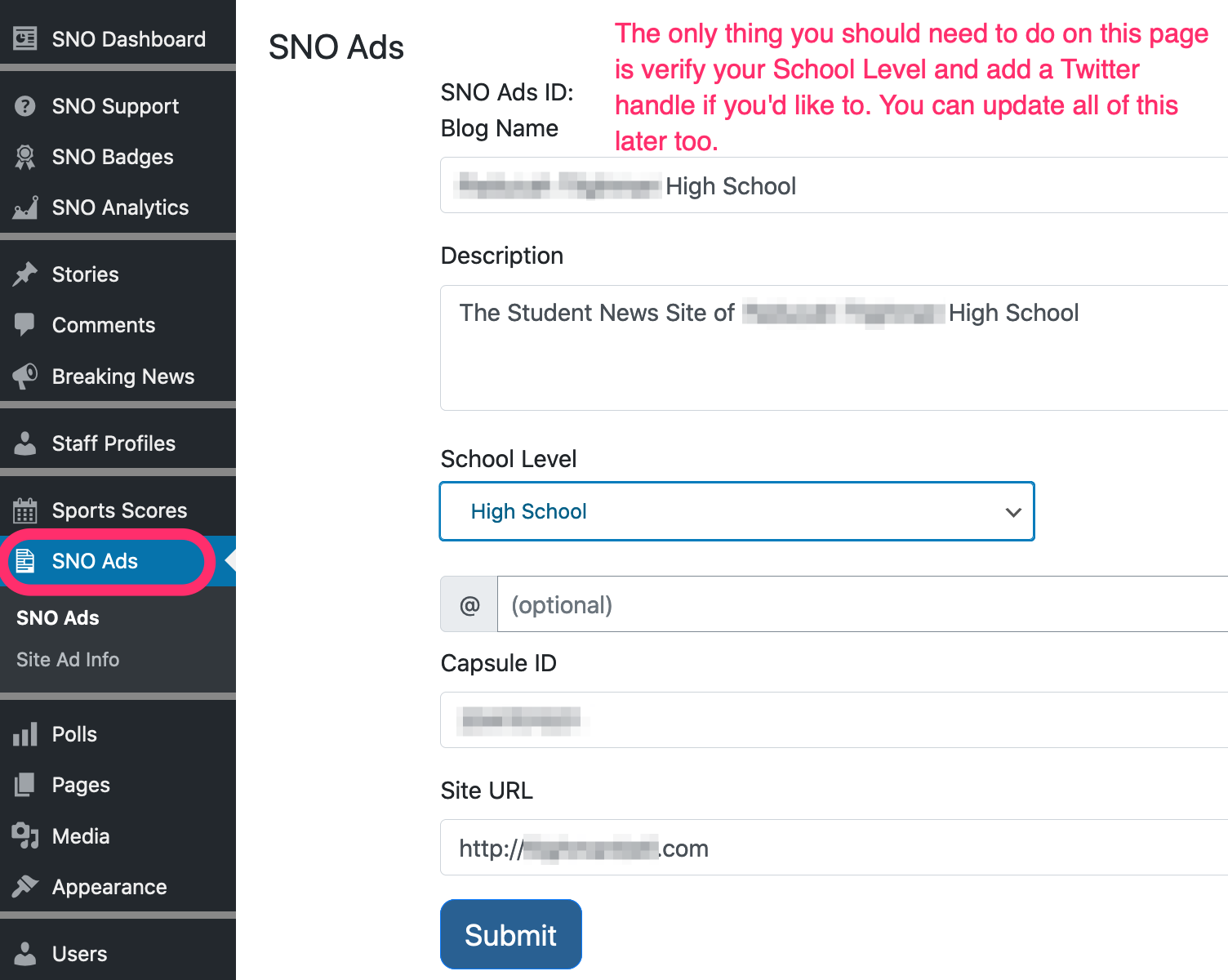 Activate all positions and set prices
SNOAds.com currently allows you to activate up to four ad positions on your site: Leaderboard, Sidebar, Footer, and Mobile App (only applies if you have signed up for the Student News Source app). To give your advertisers the most options, we recommend activating all ad positions. If you don't like how they look on the site, you can easily turn them off by returning to the SNO Ads admin page in your dashboard.



Next, set your prices. If you're not sure how much to charge, we pre-fill each ad spot with a recommended price, but you can easily change that to fit your preferred rates. Be realistic in pricing and remember that ads are set to automatically renew monthly.


Personalize your placeholder ads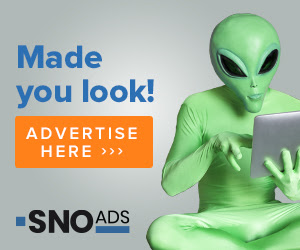 Each active ad position will display a placeholder ad on your site to let potential advertisers know that they can purchase an ad there. We have created several placeholder ads, but you can override those with your own placeholder ads by returning to the SNO Ads admin page in your dashboard and uploading a fill-ad for each position.
Promote your listing
Now it's time to let your community know about your listing on SNOAds.com. Here are a few ways to get the word out about this new option for advertising:
Share your listing on your social media accounts

like this.
Build an advertising page on your SNO website.
Make it someone's job on staff to promote your listing throughout the school year.
Get advice from other media advisers
You don't have to figure this all out on your own. Many of our member schools have been successful in online advertising for years. Join our new Facebook group to learn from them.