We know that school budgets are tight. That's why at the beginning of 2022, we announced the release of SNO Donate, a new way to collect financial donations through your SNO website from family, alumni, and community members that want to support your journalism program.
Here are a few quick points about SNO Donate:
The donations program is

completely optional

to use. You can turn SNO Donate on or off at any time through your website dashboard.

When a supporter contributes through SNO Donate, SNO will collect the credit card payment and

90 percent

of the donation will be applied to your account as a credit, lowering your annual bill with SNO. The remaining

10 percent

of the donation will be used to cover credit card fees and maintenance of the SNO Donate platform.

All donations through SNO Donate must be done with a credit card.

Because the donations are processed through SNO Sites, they are not tax-deductible for your donors.
Activating SNO Donate on Your Website
To activate SNO Donate, log into your SNO website and click on the SNO Donate tab in your dashboard. Click the "Enable SNO Donate" button and you're on your way to earn money for your organization.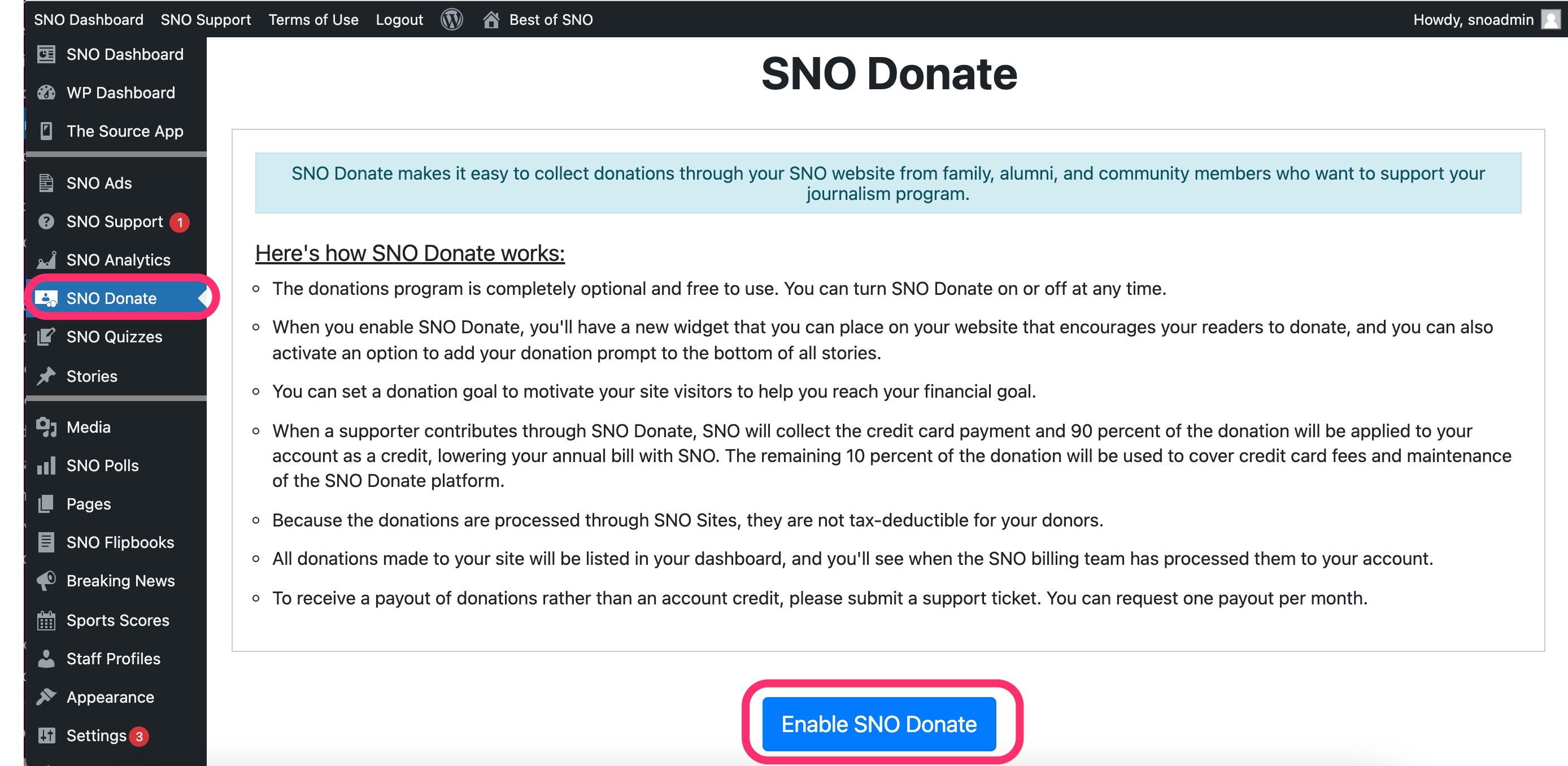 Editing Your SNO Donate Settings
Once SNO Donate has been activated, you will see a "Donation Settings" tab appear within the main navigation menu in the backend of your site.
On this page you'll start by customizing your Donation Text and Thank You Message. Then, set your Suggested Donation Amounts. If you're not sure how much to charge, we pre-fill each spot with a recommended price, but you can easily change that to fit your preferred amounts. Be realistic in pricing in order to encourage donations from all sectors your audience. Please note that there is a minimum donation threshold of $10.00.
Next, determine your Donation Goal Amount. Amongst your staff, come up with a goal that you believe is achievable, as well as a goal start date. You get to decide if you would like to display this goal and your progress towards reaching it to your readers. If so, simply check the "Show Goal" box and select a corresponding goal bar color. To incentivize visitors to contribute and build momentum, we recommend showing the goal on your site.
Finally, decide whether you would like to include a donation prompt at the end of all stories on your site. We highly recommend doing this as readers can come to your site from a variety of places and may not always see a widget on a specific page.
Make sure to click "Update Settings" at the bottom of the page once you're done. If you would ever like to turn off SNO Donate, you can do so by clicking "Disable SNO Donate" at the bottom of this page.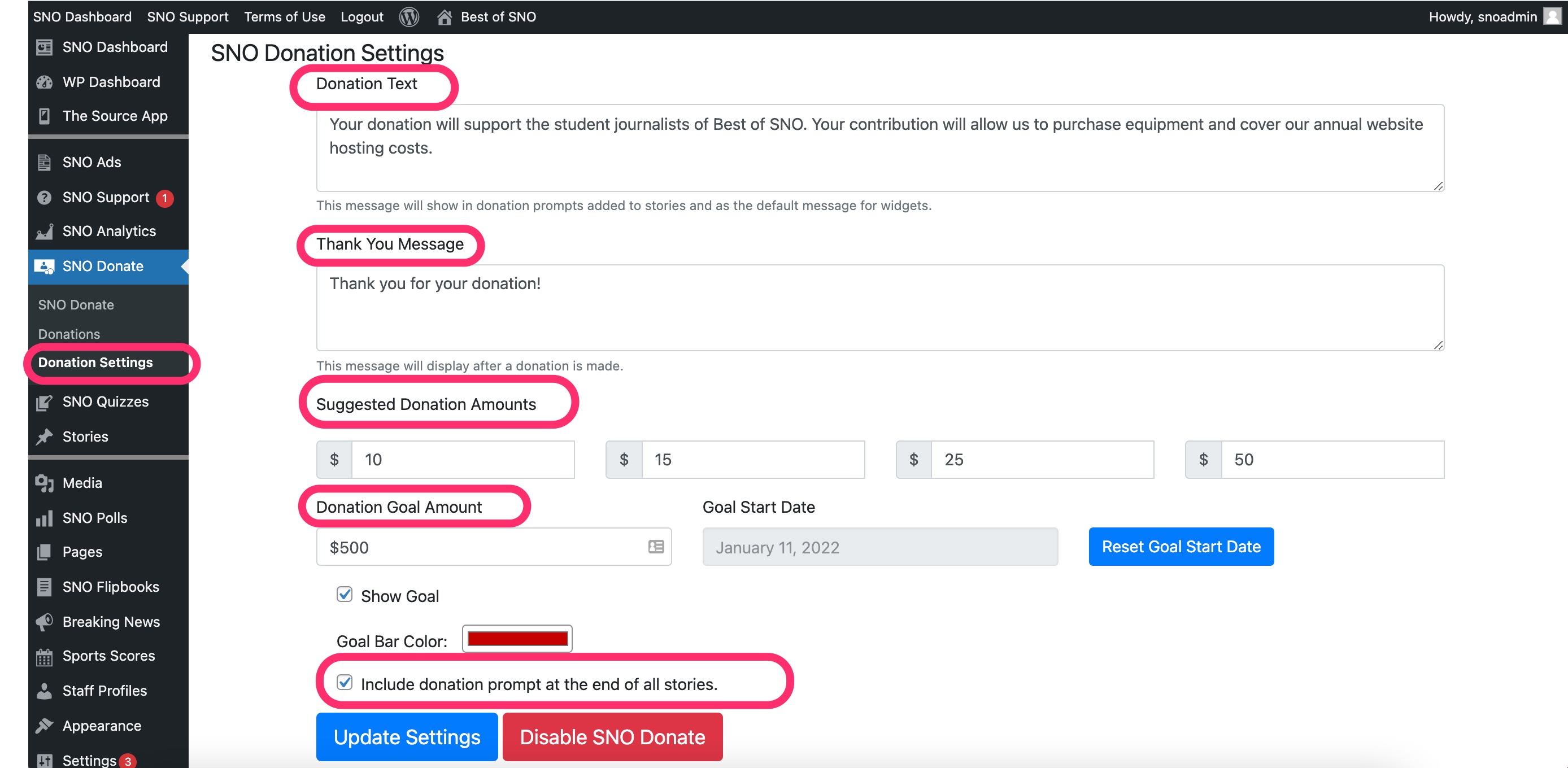 Adding a SNO Donate Widget
In addition to a donation prompt at the end of all stories on your site, you can also place a new SNO Donate widget on your site to encourage your readers to contribute.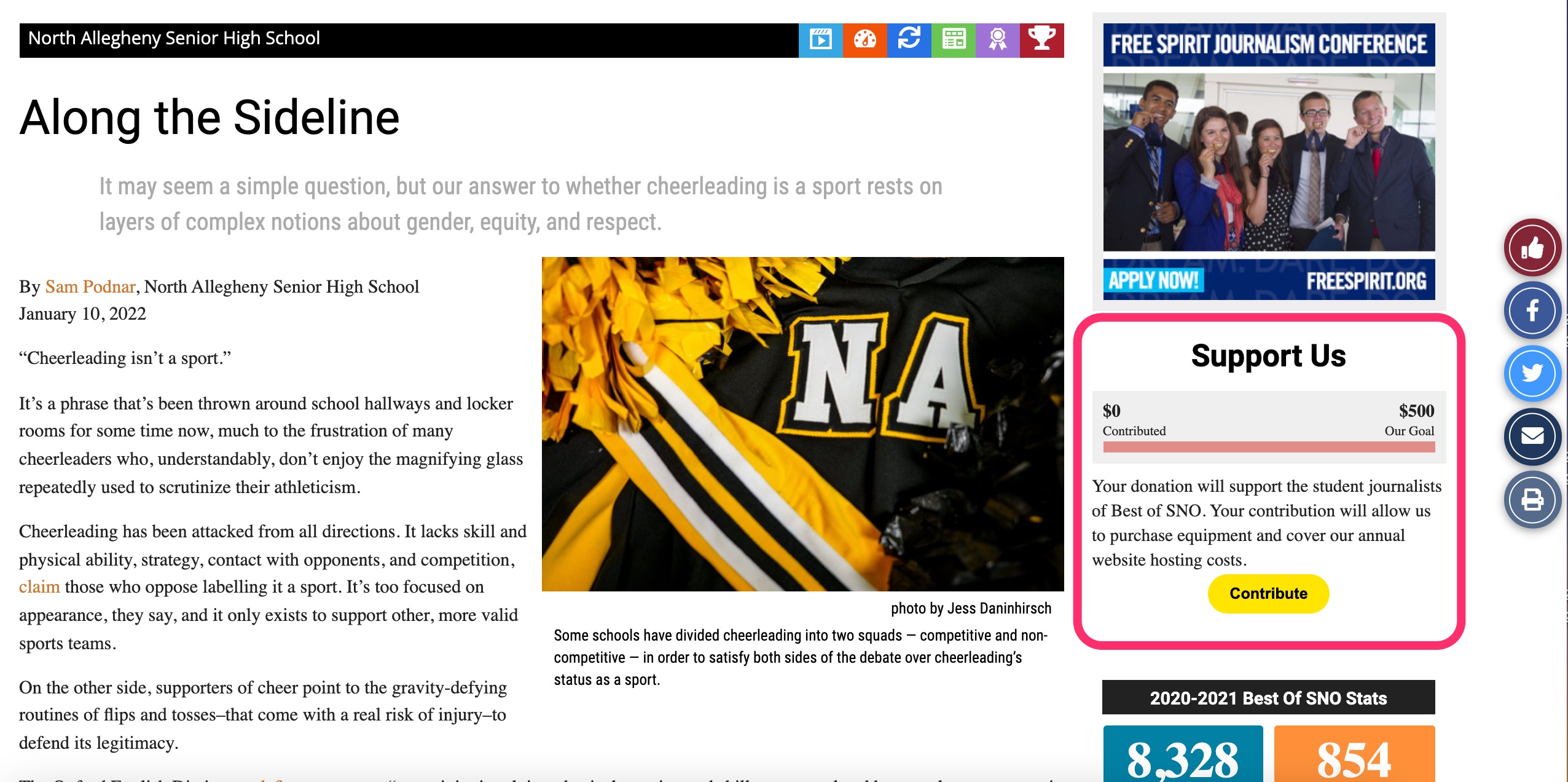 To do this, click on Widgets under the Appearance tab on the left navigation bar in the WordPress dashboard. Open the Widget Area where you would like to place the SNO Donate Widget. Drag the SNO Donate Widget from the left hand side of the page into the Widget Area. Set the configuration options for the widget. Click Save.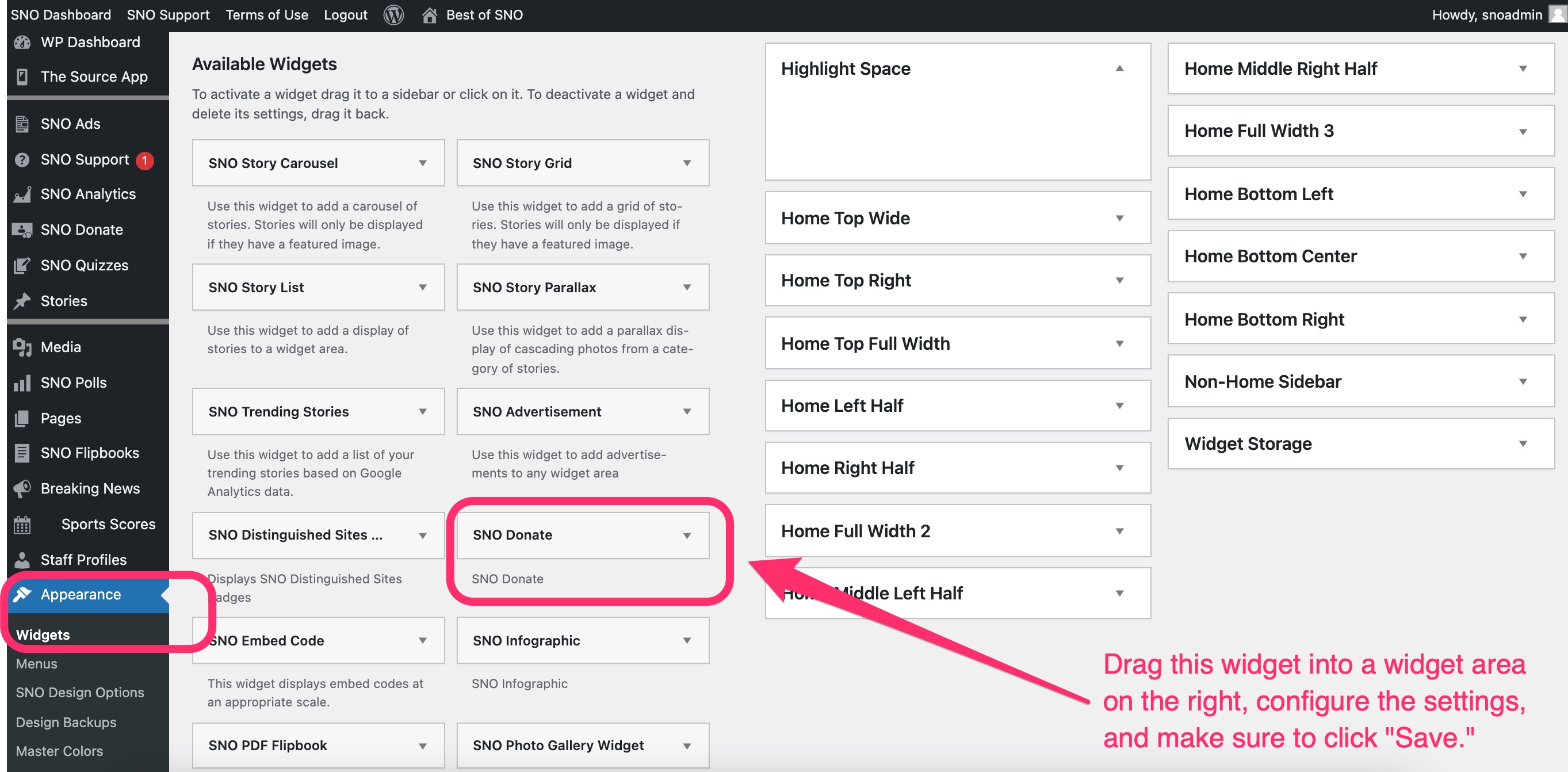 Viewing and Receiving Your Donations
When donations are made on your site, you can view them by clicking on the "View List of Donations" button within the general SNO Donate page.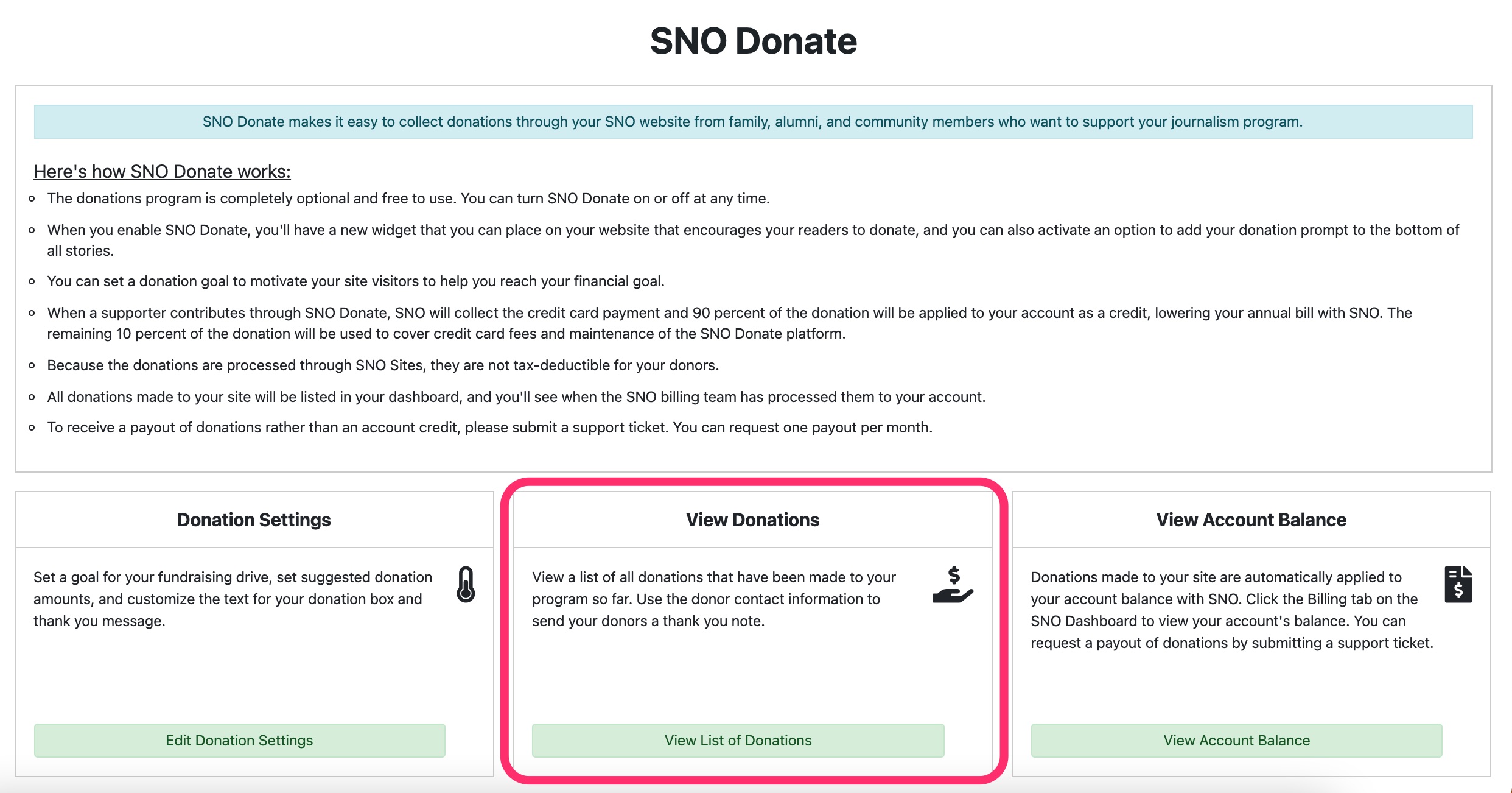 Initially, when a donation is made, its status will appear as Pending. This means that the donation has been submitted and is currently being processed by SNO. When the status changes to Processed, that means that we have credited the donation to your account.

If you would prefer to receive a payout of donations rather than an account credit, you can submit a support ticket. You can request one payout per month.